Monthly Newsletter
On the first of every month, you can have delivered to your inbox a collection of musings on nature, conservation and science, as well as random Internet wisdom, humor, and words. You can sign up at the bottom of this page, and you can find the archive here.
Little Books and Solos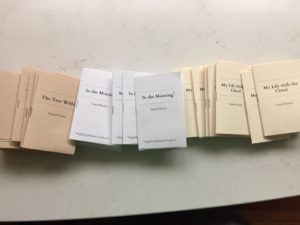 Want a short story that will fit into your pocket? Buy a Little Book! Check out these eight-page books that are folded out of a single sheet of paper: literature meets origami! All stories have already been published in literary journals and now they live again as Little Books. Read them on the subway, the bus, at a café, or at home in your living room. Choose from whimsical instructions like "How to Look at the Moon" or "How to Build a Universe,"  my famous one sentence story, "In the Morning" – with footnotes, or other lighthearted titles like "The Tree Inside," and "My Life with the Cloud." Collect the whole set!
Here are all the titles, neatly categorized.
How-To: 
How to Build a Cloud:       No one has successfully built a cloud, so this is your chance to make history…
How to Build a Universe:      We're not talking about building some quaint little microcosm…
How to Look at the Moon:      Appreciate that you are about to embark on a Great Thing…
Travel:
The Travels of the Dead:     It is said that after they die, the dead go to a train station to wait for a train…
The Four O'Clock Café:      The Four O'Clock Café was only open at one time: 4 o'clock…
Delhi Raga (nonfiction):      The sixty-three-year old sarod player sits cross-legged on the stage between the tabla and tambura players…
Close Encounter in the Wild (nonfiction):     Last spring, one of the doors of the universe opened for me…
Space Travel:
Postcard from Sgr A*:      Here at the center of the galaxy, you can attend top-flight literary readings at least two nights of the week…
Life:
The Origin of Life:      Beginnings are always hazy. We were so much younger then…
The Meaning of Life:      I often have a daydream that suddenly the meaning of life is discovered…
My Life with the Cloud:       I thought I heard a knock at the door and was puzzled; I hadn't buzzed anyone in and my two neighbors were away for the weekend…
Literary Criticism:
In the Morning:      My famous one-sentence story (with footnotes)!
Health:
The Tree Within:     I had a splitting headache…
A Short Course on Cloud Physics:      Clouds have always existed, though their true nature is poorly understood…
Art:
The Wave: A Review:      Since its installation two months ago, The Wave has become the museum's most popular exhibit…
Science/Poetry:
Ten Simple Science Experiments to Test the Universality of Poetry:      Begin by composing a poem. This is harder than it sounds so allow due time…
Price: $3 each or 2 for $5. Shipping will be a little extra.
Solos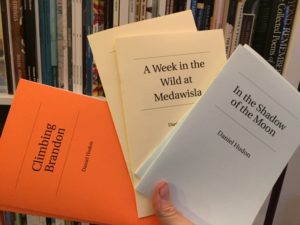 You can also buy recently published solo essays that have been formatted into booklets. Choose from "A Week in the Wild at Medawisla," about getting lost in the Maine woods, "In the Shadow of the Moon," a quest for what lurks in the shadow of the moon during a total eclipse, and "Climbing Brandon," an exploration of faith while climbing Ireland's holiest mountain. A fourth essay, not shown, "Dehorning the Rhino," about my experience volunteering with a rhino conservation camp in Greater Kruger National Park in 2019. Each essay is $4, or buy all four for $14. Shipping is extra.
To Purchase: Fill in the contact form below with your name, address, titles you want to buy and preferred payment method (Paypal, Venmo or personal check) and I'll get back to you asap.
Also Available: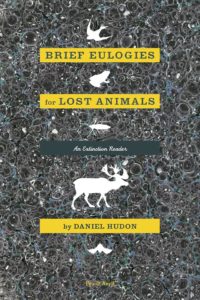 Brief Eulogies for Lost Animals: An Extinction Reader — Named a Must Read in the 2019 Massachusetts Book Awards. 
Order at the Pen And Anvil page.
******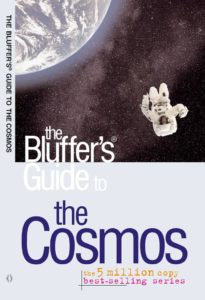 The Bluffer's Guide to the Cosmos: a handy, witty pocket guide to all things astronomical. Read a few pages and sound like an expert! Contact me to get your copy. Price: $10 plus Shipping.
******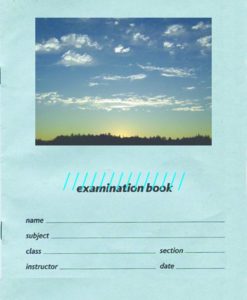 Evidence for Rainfall: A chapbook of prose and poetry printed on an examination booklet by Pen and Anvil Press. Contact me for your own copy. Price: $5 plus shipping.
Contact me for information on getting your own copies of any of the above: