How can artists convey the idea of disappearance and extinction of species?
This has long been a question for Brandon Ballengee, a visual artist, biologist and environmental educator based in Louisiana, whose many art installations have been inspired by his ecological field and laboratory work.
Initially, Ballengee wanted to use silhouettes to show something as there but disappearing. But while experimenting with blacking out extinct animals in old nature magazines, he recalled that Robert Rauschenberg once created a work that was an erased de Kooning drawing. So, rather than erase extinct animals from books, he began to cut them out with an Exacto knife (as long as there were multiple copies of the book).
This led to the creation of his installation, "Framework of Absence." Ballengee created the works from real historic artifacts that were around while the animal was fading into extinction. After the animal was excised from its source, the depiction was burned and the ashes were placed into black glass funerary urns etched with the names of the lost species.
At installations, viewers were asked to scatter the ashes, an act that Ballengee hoped would connect participants to the lost species and help prevent further extinctions.
A few examples show the power of the exhibit. Here is the Great Auk, missing from the North Atlantic: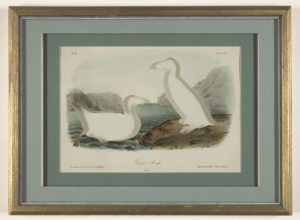 Here is the Spectacled Cormorant, missing from the Kamchatka Peninsula: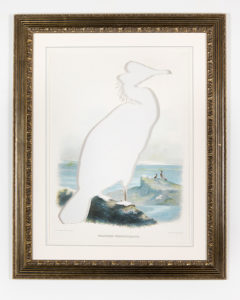 Here is the Guadalupe Caracara, missing from Guadalupe Island: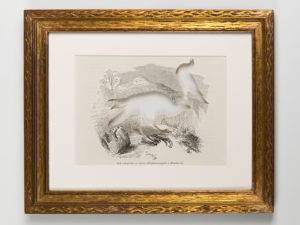 And here is the Sea Mink, missing from the rocky coasts of New England and Atlantic Canada.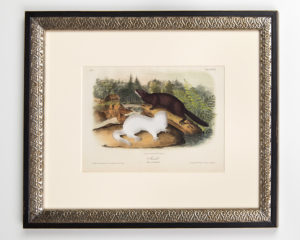 More of Brandon Bellengee's work can be found at his website.
Previous entries for my series on artists and extinction can be found starting here.