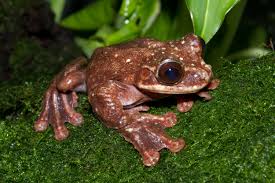 On Dec. 15th, 2015, Toughie, the last Rabb's Fringe-Limbed Tree Frog sang out from his home in the Atlanta Botanical Gardens. After several years in captivity, he was advertising his presence to a mate who wasn't there. The call, of course, went unanswered.
A captive breeding program a few years ago had failed and when another male died at the Atlanta Zoo, the species line of Rabb's Fringe-Limbed Tree Frogs, one of almost 7600 amphibian species that have been diversifying over the last 300 million years, came down to just Toughie.
Toughie passed away a month ago, on September 26.
Toughie was an endling, the last survivor of his species. Extinction is usually so silent and remote that it's always a surprise, if not a pleasant one, to encounter an endling. He joins Martha, the last passenger pigeon, Incas, the last Carolina parakeet, Booming Ben, the last heath hen, and Benjamin, the last thylacine as the handful of endlings who became famous. Toughie has his own Wikipedia page. He was featured in the film Racing Extinction. His image was projected onto St. Peter's Basilica during the Paris climate talks.
The story of another endling haunted me into writing a book about recently extinct species, to be launched this fall . The golden toad was a spectacular amphibian from Costa Rica's cloud forest in Monteverde. Against the luscious greens and dull browns of the cloud forest floor, its coat was a brilliant orange, as if dipped in enamel paint. Only discovered in the 1960's, the golden toad was rarely seen, except in the spring when they would gather and mate in the temporary pools. In the 1980's the population crashed and year by year fewer were seen until just one was recorded in 1989. None have been seen since.
By the time I visited Monteverde in 2001, the golden toad was long gone. But that's where I first heard its story and it has stayed with me. While the biological diversity of the Monteverde Cloud Forest Reserve is something to behold, from epiphytes and orchids to exotic birds, including the resplendent quetzal, I kept thinking about that last toad who was never to find a mate.
In an op-ed for the New York Times, Joseph Mendelson, a leader of the team that discovered Toughie's species and the director of Zoo Atlanta wrote: "The planet is permanently changed. This frog's ecological role among the animals and plants with which it evolved has been lost, along with whatever other secrets it carried."
Toughie was one of many frogs collected from Panama in 2005 as the lethal chytrid fungus was sweeping through. Scientists likened the effort to rescuing belongings from a burning house. The species was unusual because of their large webbed hands that helped them glide safely from the trees to the ground, and for the male's habit of letting tadpoles feed off the skin on its back.
In a 2015 paper in PNAS, Australian biologist John Alroy estimates that extinction rates are four orders of magnitude higher than normal and warns of the "runaway train of extinction" that will ultimately produce a global mass extinction not just on human times scales but on geological time scales. Humans are now the driving force in environmental change. Most species extinctions in the past few centuries have been due to habitat loss and modification, or to the introduction of invasive species. For frogs, humans have acted as agents to help move the chytrid fungus to places where it previously didn't exist through the global trade of amphibians for food, for use as laboratory animals or for use as pets or display animals.
Whenever I visit a national park or some kind of nature reserve, I admire the foresight of previous generations who decided to set aside the land for enjoyment by all. What a legacy! I hope our legacy will be something so worthy. It would be grand if our legacy is that we did whatever we could to stop the extinction crisis from worsening.
Naturalist William Beebe wrote in 1906 that, "when the last individual of a race of living beings breathes no more, another heaven and another earth must pass before such a one can be again."  Our heaven is now and it is passing through our fingers. With Toughie's passing, the planet is indeed permanently changed. There is still much worth saving, but we must engage the problems first. Time is short.
In forty, eighty and one hundred years, I hope we can leave future generations more than just images and recordings of the wild.