For many years, a beautiful maple tree lived on my block. And like maples anywhere, fall was its time to shine. For about six weeks, it put on a show with its leaves turning red at the top, and then that red would cascade down. Then the leaves at the top would turn yellow, and the yellow would cascade down. Finally, it would lose its leaves at the top and then lose them branch by branch until it was bare.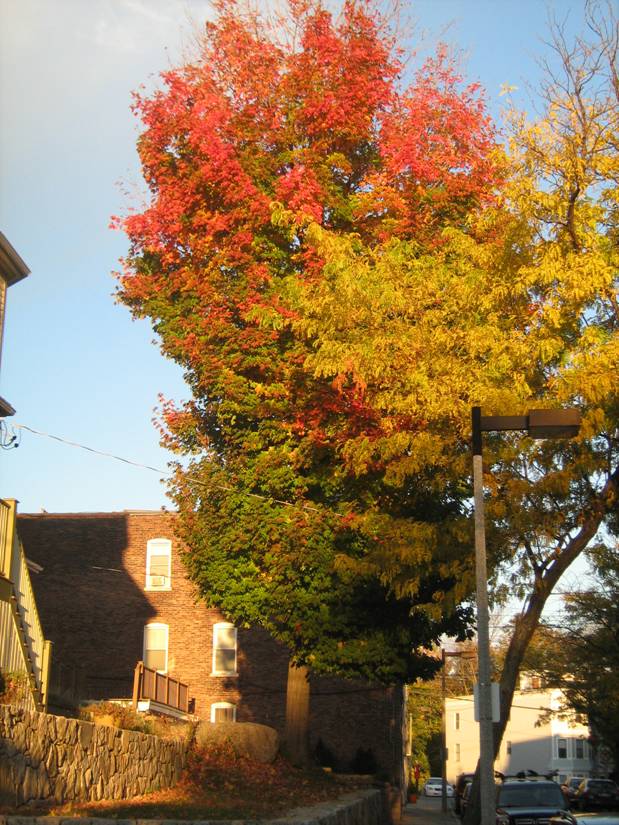 A few years ago I tried to capture the event in photos. Though I got a number of good pictures, I realized when I tried to put them into a sequence that I wasn't consistent enough in how I took them – they were taken at random times from a few different places. I resolved to be more rigorous the next year and take the photos from the same place, at the same time of day.
But I never got the chance.
One day in September I turned the corner onto my block and saw all the leaves of the tree had turned yellow. The next day the leaves were on the ground. It was a sudden death if ever there was one. It was like fall itself was cancelled and there would be no colors coming to my block. I didn't know at the time that the tree had been poisoned, and after lamenting the loss of color on my block, I waited anxiously through the winter for the tree to bud again.
I walked by the tree every day in the winter and wondered about it. And I cast those thoughts into words, and then combined them with the images I had to make a series of films. Each film is two to four minutes long and captures a different aspect of my vigil. To be honest, they are among the creations I'm most proud of – I watch them from time to time and I'm still moved by them. They remind me of how much I loved that tree.
The films are all on my Vimeo page, which for some reason has become difficult to navigate. You can find them all in one place here, or I've put the titles with links below in the sequence that I made the films: