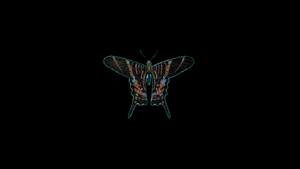 How to raise awareness about recently extinct animals? We need to know and see what we've lost, both to remember and celebrate them even as we mourn them.
There's something about an image – a photograph or even a film clip – something that recreates the likeness, that helps to bring the subject alive.
Here are three short films from my book, "Brief Eulogies for Lost Animals: An Extinction Reader" (available at the Pen and Anvil website).
The Song of the O'o. The Kauai O'o was known as one of the finest singers in all of the Hawaiian Islands.
The Laysan Rail. This rail, from the island of Laysan, in the NW Hawaiian Islands, is one of the few extinct birds for which film footage exists.
Urania Sloanus at Sunrise. Urania Sloanus lived in Jamaica and was often described as the most beautiful moth in the world. This film, based on eyewitness reports, hints at why.
More about my book can be found here.
More films to come soon!