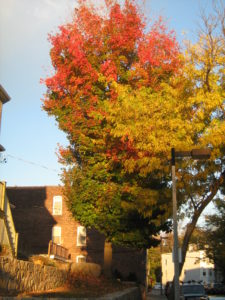 Every autumn, the maple tree on my block put on a terrific show of color. These displays lasted for several weeks. It was a beautiful tree and through the summer, I would look forward to the brilliance coming in the fall. But at the end of the summer of 2015, my anticipation turned to sadness when the tree's leaves suddenly turned yellow and dropped. I waited anxiously all winter to see if it would bud again in the spring, but it did not.
It has been standing barren since then and today I made a short video about the tree that I loved so much. This week it is being taken down.
It's not everyday that one loses a favorite tree so I've written a fair bit about it. These writings will be published soon and with accompanying photos and video.